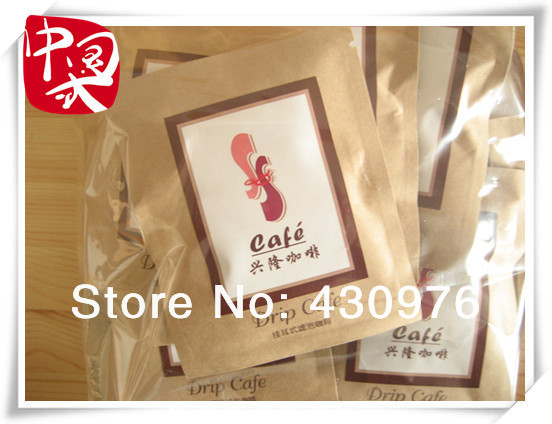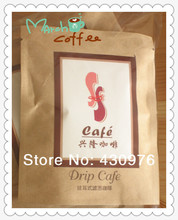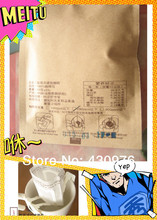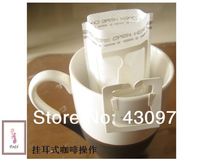 s&s cafe -chinese local xinglong coffee (10g/bag ,50bags/package) body cream 100%black pure coffee orign of china hainan island
| | |
| --- | --- |
| Weight: | 0.5 |
| is_customized: | Yes |
| Shelf Life: | 180days |
| Brand Name: | s&s cafe |
| Flavor: | Cream |
| Packaging: | Bag |
| Caffeine Type: | Caffeinated |
| Item Type: | Ground Coffee |
Product Description
s&s cafe -
chinese local xinglong coffee (10g/bag ,50bags/package)
body cream 100%black pure coffee
orign of china hainan island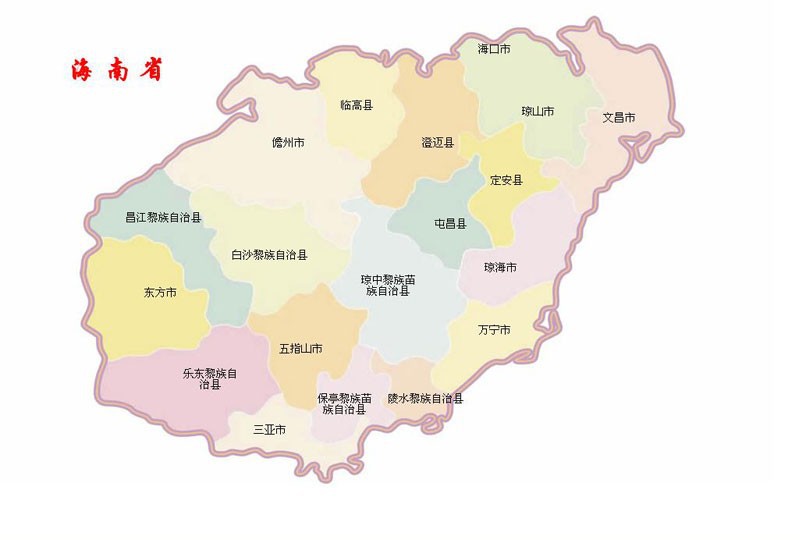 Drip of coffee bag story :Carry bag hangers developed by the Japanese patent design, mounted inside the coffee powder in the filter bag, made of cardboard splints on both sides, can be hung on the cup, you can throw away after the red, as if the filter can easily drop to drink ground coffee brewing style. Bag hangers Instant coffee is a type that enjoy freshly ground coffee. Trickling filter coffee brewing manner, coffee among the sour, sweet, bitter, alcohol, fragrance perfectly embodies. As long as you have hot water side, there is a coffee mug that can be easily enjoyed. Particularly suitable for home, office and travel.
Use hangers bag of coffee
Through 5 steps to complete : 1 tips along the tear mouth , carefully open the bag neatly ; 2 After shaking flat lug bags , seal the bag ripped pink uniform hangers cause distraction , coffee mugs hanging on the mouth . ; 3 Prepare a pot of boiling water ( water temperature recommended brewing coffee between 85 -95 ), recommend the best pure water , the water to a boil , set aside Pour about 1 minute when poured boiling water , uniform manner to bag pouring hot water ( note the speed is not too fast , not too much water , to avoid overflow ) . fluid volume in the bag to be dropped , once again poured . fluid volume to be the cup of coffee up to 7 points over time , or according to personal carefully discard the decision to withdraw tastes shift lug bags ( be careful burns ) . ; 4 Please be completed immediately drinkable brew delicious coffee bag hangers can also be based on personal preferences , add sugar or milk seasoning ( recommended drinkable flavor of a single product , to avoid the impact of a single product additions reflect the characteristics of the coffee ) . ; 5 To ensure each coffee flavor perfectly embodies recommended discarded after one bag of coffee . Tips: Fresh coffee quality basic protection , in order to better enjoy the delicious coffee , we recommend that you use the product as quickly as possible .
Please hang ear package products placed in a dry, cool space, and try not to save it with spices, seafood smell heavy items .