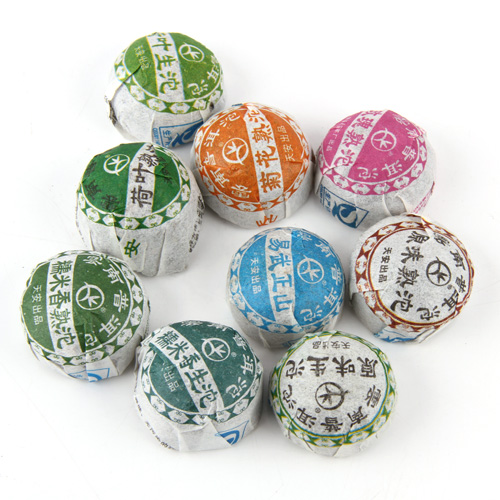 Quality Hot 9pcs 9 kinds Pu er Tea Slimming Ripe Wuchuyu AngelJuan
| | |
| --- | --- |
| Weight (kg): | 0.45kg |
| Shelf Life: | forever |
| Packaging: | Bag |
| Style: | Compressed Tea |
| Brand Name: | Puer Tea |
| item Type: | Pu'Er Tea |
Product Description
20 pcs Motor Throttle Assist Wrist Rest Cruise Con...
$ 17.66
Hot Women Brief Girdle Shaper Underwear Lady Slim ...
$ 2.29
1pairs Fashion 925 Sterling Silver Crystal Flower ...
$ 1.33
Women Loose Casual Slim Fit Sexy Chiffon Sleevele...
$ 4.79
New Womens Tank Top Stretch Padded Seamless Bra Ra...
$ 4.79
High quality 8 pin Data Sync Adapter Charger USB c...
$ 0.78
New Hot Silicone Coasters 6 Pack Color Random Roun...
$ 1.58
Blue Peony Flower False Nail Art Accessory Wrap De...
$ 0.47
Cute Funny Clockwork Bath Toys Animals Frog Fish B...
$ 0.54
9 pieces flavour Pu'er Tou Cha.It includs Jasmine Flavour, Lavender Flavour, Rose Flavour,Ginseng Flower etc. Pu-erh tea can be purchased as either raw/green (sheng) or ripened/cooked (shu), depending on processing method or aging. Sheng pu-erh can be roughly classified on the tea oxidation scale as a green tea, and the shou or aged-green variants as post-fermented tea.
Features: Weight: about 5g/1Pcs
Tea Type :Pu-erh Tea Ripe and Raw
Origin: Yunnan ,China
Note: This mini tuo tea are ripe and raw and some roasted flaovr, Glutinous rice flavour.
For hygiene, please clean the tea with boiled water before drinking.
Package Include: 9 pcs Pu-erh Tea