Menghai Black Tea Flavor Mini Ripe Puer Tea, Chinese Tea Is Women'S Weight Lose Health Care Best Products And New Year'S Gifts
item Type:
Pu'Er Tea
Grade:
AAAAA
Shelf Life:
The long the better
Age:
1 - 2 Years
Brand Name:
Xinyihao Brand
Style:
Compressed Tea
Packaging:
Bowl
Certification:
QS
Product Description
Xinyihao Premium Rose Da cooked, selected Menghai spring as raw material, adding roses repression, repression by the traditional process. So the tea aroma taste very good, bright soup, sweet fast and for a long time! The leaves are all greatly suppressed! Not broken! Beautifully packaged, health, once a brew convenient.
Reasons to buy: clean and sanitary products, packaging beautiful, beautiful, making convenient, affordable, superior quality, unique aroma, mellow taste
Scale drawing real shot, almost the size of a dollar coin;
Once the bubble one, suggest that you slip through the net filter is best to use it, so it would be more clear if tea, because in the process of making tea being squeezed, there will inevitably be a bit odd;
Liquor color bright, mellow taste, charm long, sweet fluid durable, can be repeated several times brewing, the more the better bubble drink is a good drink tea;
Tea bottom really making plans, but they are big blades, will never be broken tea do, please rest assured purchase!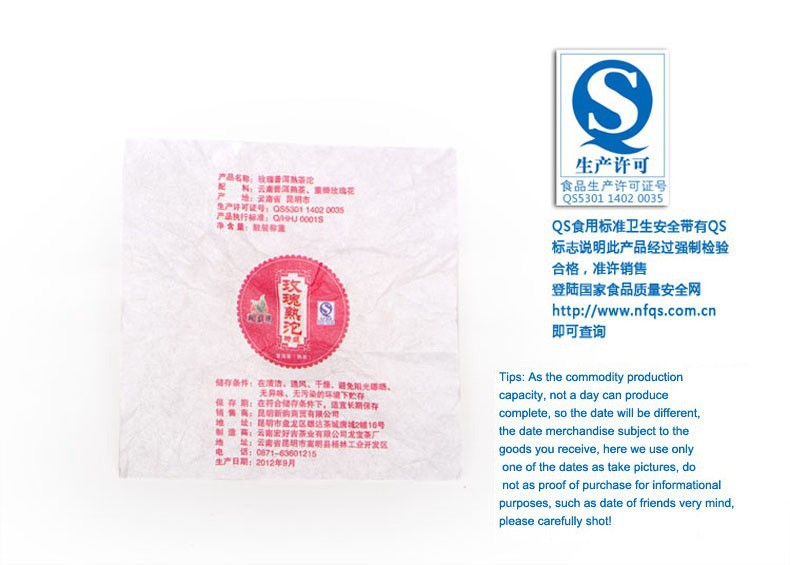 Tips: As the commodity production capacity, not a day can produce complete, so the date will be different, the date merchandise subject to the goods you receive, here we use only one of the dates as take pictures, do not as proof of purchase for informational purposes, such as date of friends very mind, please carefully shot!
Brew Guide:
First, pour in boiling water until overflow slightly. This is for rinsing the water and not for drinking.
Pour out the water.
Then use boiling water to brew the tea, about 2-5g per time.
Usually can brew about 2-5 times.