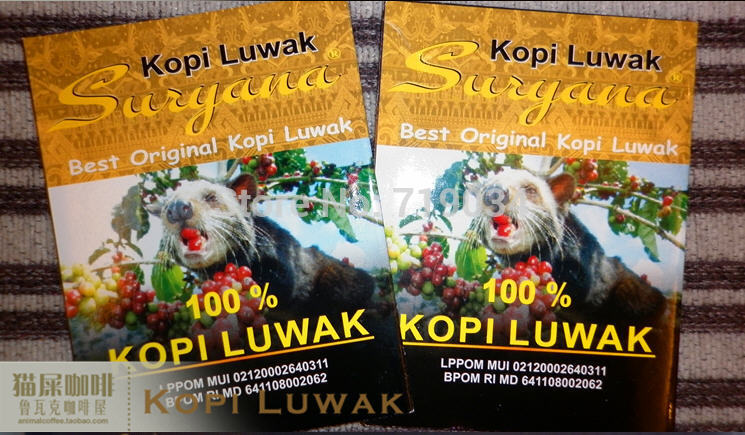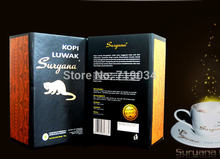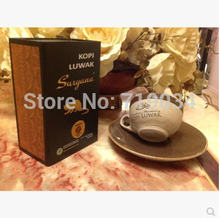 Indonesia imported cat feces SuryanaKopi Luwak civet coffee Robusta coffee 50 grams Manchester
| | |
| --- | --- |
| Weight: | 50g |
| Item Type: | Instant Coffee |
| Flavor: | mellow |
Product Description
Make: UD.SURYANA Address: JI.Raden Imba Kesuma No.2 Bandar Lampung Indonesia Ingredients: 100% cat feces coffee beans (Arabica beans) Storage: sealed, dry Shelf life: 365 days Food Additives: None Packing: Packing Weight (g): 50 Product Barcode: 8997263816605 Taste: mellow Raw and cooked beans degree: Coffee beans cooked Brand: Suya Jia (Indonesia) Series: Arabica 50 g Whether sugar: sugar-free Origin: Indonesia Coffee Category: cat feces coffee Baking Level: Moderate baking
Cat feces coffee four of "most" The most peculiar because this coffee is pulled out from civet poo collected from the processing. The most rare because of its unique production process. Civets in vivo using natural fermentation method, non-labor alternative. The largest annual global supply of coffee beans is not more than 400 kg. The most expensive luxury: a. Coffee 2010 Shanghai World Expo 12 grams a cup of coffee made from cat feces is 380 yuan, limited to 12 cups a day, in short supply. b. in Bali, a cup to more than 200 one thousand (over 20 million) rupiah, equivalent to RMB 150 much. c. in the United States, one kilogram of coffee beans cat feces up to USD 1200. In the international market has always been around in USD 1000 d. in the UK, a cup to 50 pounds (RMB 500). The most unique flavor In general, Indonesian cat feces coffee slightly earthy and herbal flavor, and with a little musk fragrance, consistency also topped the global coffee crown. Kopi luwak coffee brewed will be distributed out like honey and chocolate aromas, cat feces should drink coffee "black", without sugar, milk and other spices. When scalding coffee over the throat, can feel a touch of cool. Before it even Jamaican Blue Mountain, Hawaiian Islands Kona (kona), India Niemann tnine (mandheling) are obviously inferior. Indonesian coffee farmers also believe that cat feces often drink coffee can prevent colds.
Civet coffee tree to pick the most mature and sweet, plump and juicy fruits as food and coffee. Coffee fruit through its digestive system, be digested only the appearance of the fruit flesh, that extremely hard raw coffee beans civet's digestive system is then excreted intact. Unique civet coffee beans in the digestive system destroys the protein, allowing the protein produced due to the bitter taste of coffee much less, but increased the mellow taste of this coffee beans. Cat feces coffee because yield rare, unique mellow taste, it was dubbed "feces" on the most fragrant "poo." Also become a veritable most expensive coffee in the world.
Musk cat does not look cute, long pointy mouth, eyes are sharp, especially alert, aggressive or frightened when compromised. Sleep during the day, at night to feed. Sense of smell. At night it is by the peculiar sense of smell the coffee tree to pick ripe coffee fruit. It is the cream of the crop fruit selection, be sure to choose flush the coffee fruit to eat. It is also because it's the temper, put some coffee farmers to cultivate in the woods to pick up cat feces coffee beans as a species. Tiger is no Quanzai parent, foster optimal fertile coffee beans grown coffee trees are best. Before, luwak (civet) in Indonesia but cute play hama ("pests"), just like the monitor lizards (cairica) as in Indonesia. Because this guy is always going to coffee plantations at night to eat the best coffee fruit, eat after going to the toilet to find a clean place to pull down, and sped away. This animal is so strange habits: sleep during the day and at night do Thief. No wonder the locals when it pests. Although with cat feces coffee, take the heat, these animals are now also Jingui, but in some remote areas, because of traffic inconvenience, the information behind the coffee farmers met with a musk or hit a cat, but it's meat on the table delicious. Is very unfortunate.
item.taoba.com/item.htm?spm=a230r.1.14.173.vhBlP7&id=21922515463&ns=1#detail