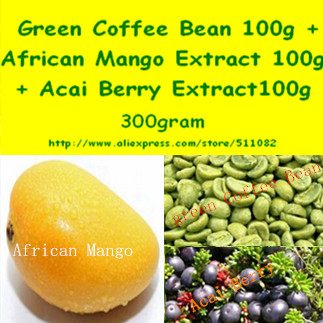 300gram Green Coffee Bean Extract + African Mango Extract + Acai Berry Extract Complex (1:1:1)Powder
| | |
| --- | --- |
| Grade: | AAAAA |
| Shelf Life: | 2 years |
| Brand Name: | Green Coffee Bean |
| Packaging: | Bag |
| Certification: | GMP |
| Weight (kg): | 0.3 |
| Origin: | Green Coffee Bean |
| Product Type: | Green Coffee Bean |
Product Description
300gram Green Coffee Bean Extract + African Mango Extract + Acai Berry Extract Complex (1:1:1)Powder
Ingredients as below:
Green Coffee Bean Extract 65% Chlorogenic Acid--- 100g
African Mango Extract --- 100g
Acai Berry Extract --- 100g
An All-Natural Product that Delivers Results Pure Blend is the perfect mixture and balance of Green Coffee Bean Extract + African Mango Extract + Acai Berry Extract Complex ingredients that support weight loss. Pure Blend is a product that delivers results! You've done your research on the science behind each of these all-natural heavyweight ingredients in the fight against fat. We've just put them together to form the perfect team!
It was recently featured as a powerful weight loss aid because it really works to burn off fat. The following are a few of the other benefits this premium complex offers:
1. Significantly reduces appetite (prevents overeating) , 100% nature
2. Helps both men AND women burn fat
3. Burn fat without exercise using this proven natural supplement that has no side effects
4. Increases metabolism and energy

Suggested Use
Not to be used during pregnancy or lactation. Diabetics, hypoglycemics, and people with known medical conditions and/or taking drugs, should consult with a licensed physician and/or pharmacist prior to starting any supplementation program. Keep out of reach of children.
Shelf time: 12months.
Storage: dark, low temperature, dry, sealed and stored.