250g made in 1970 raw puer tea puer pu'er tea perfumes and fragrances of brand originals agilawood tambac,smooth,ancient tree
item Type:
Pu'Er Tea
Grade:
AAAAA
Shelf Life:
the older the better
Age:
31 - 40 Years
Brand Name:
cswl
Style:
Compressed Tea
Packaging:
Brick
Certification:
QS
Product Description
This tea cake is made of tea leaves plucked from wild tea trees. It is produced in 1970 by Chinese Tea Group affiliated to COFCO group, one of the fortune globle top 500. As the tea cake is made by compressing tea leaves plucked from wild tea trees hundreds of years old, the tea has top-grade quality and is well worth collecting like an antique. It also contains rich nutrients and is very good for health. It is favoured by tea lovers
How to make puer tea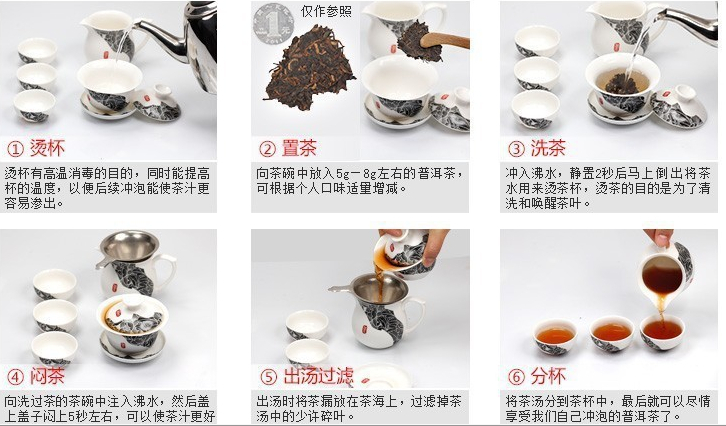 The Storage of Puerh Tea
Puerh tea has also been lauded as the "drinkable antiqueâ€. The flavor and color of Puerh Tea changes when properly stored over a period of time; fresh raw tea brews into a bright, yellowish broth and possesses a strong, almost harsh flavor; aged raw tea brews an amber broth and possesses a mellow flavor. Fresh ripe tea brews into a bright red broth possessing a smooth mellow flavor; old ripe tea brews dark red with a thick mellow flavor. The flavor, quality and value of Puerh tea constantly increases over time with proper storage,and the longer the better.
·Young raw Pu:erhThe ideal liquors should be aromatic with a light but distinct odors of camphor, rich herbal notes like chinese medicine, fragrance floral notes, hints of dried fruits aromas such as preserved plums, and should exhibit only some grassy notes to the likes of fresh sencha.Young raw pu'er may sometimes be quite bitter and astringent, but should also exhibit a pleasant mouthfeel and "sweet" aftertaste.
·Aged raw Puerh: Aged pu'er should never smell moldy, musty, or strongly fungal, though some pu'er drinkers consider these smells to be unoffensive or even enjoyable. The smell of aged pu'er may vary, with an "aged" but not "stuffy" odor. The taste of aged raw pu'er or ripe pu'ershould be smooth, with slight hints of bitterness, and lack a biting astringency or any off-sour tastes. The element of taste is an important indicator of aged pu'er quality, the texture should be rich and thick and should have very distinct aftertaste on the tongue and cheeks, which together induces salivation and leaves a "feeling" in the back of the throat.
Spent tea: Whole leaves and leaf bud systems should be easily seen and picked out of the wet spent tea, with a limited amount of broken fragments. Twigs, and the fruits of the tea plant should not be found in the spent tea leaves.The leaves should not crumble when rubbed, and with ripened pu'er, it should not resemble compost. Aged raw pu'er should have leaves that unfurl when brwed while leaves of most ripened pu'er will generally remain closed
Shipping:
We ship worldwide by China air mail through China Post . The item will be sent to your address listed at aliexpress. Please make sure your shipping address and zip code is correct. You will be notified with the tracking number once the shipment has been made
Buyers` Information:
We strive our best to provide you the most reliable, affordable way of shipping service. But sometimes international delivery is highly depended on the courier company and local customs/duties. We are unable to take any responsibilty for Custom delay or tax. If you do not receive your item on time, please contact us immediately for further assistance. Thank you for your understanding.
Shipping Time:
All items will be dispatched within 2( two) days after payment is cleared. It takes about 10-25days for shipment arrival.
About Item:
All items sold by us are being described to the best of our abilities, as accurate as possible, and with utmost conscientiousness on our part.
However, to avoid any potential oversights, I respectfully request your assistance in helping us to make this a mutually satisfactory transaction by THOROUGHLY reviewing item description and photos, and asking all questions PRIOR TO BUYING
Problems?
Please give us the opportunity to resolve any problem. We understand the concerns and frustrations you might have, and will try our best to resolve the issues. Please write before leaving any negative feedback or open any dispute on ali-express
Customer Satisfaction
Do not hesitate to contact us any time before and after your purchase. We are committed to your 100% customer satisfaction. Our goal is to make sure you are a happy customer and pleasant buying with us.
We are passionate about our products and we really care about you!