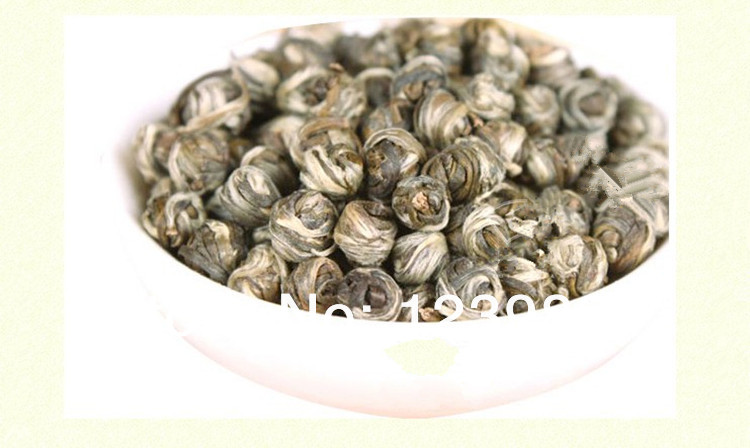 100g 100% Jasmine dragon pearls tea,jasmine dragon balls, jasmine tea ,free shipping
| | |
| --- | --- |
| item Type: | Green Tea |
| Grade: | AAAAA |
| Age: | New |
| Shelf Life: | 2Years |
| Style: | Loose Tea |
| Packaging: | Bag |
| Variety: | other |
| Weight (kg): | 0.1 |
Product Description
Jasmine Pearl Tea,Jasmine dragon balls tea, Fragrance Green Tea
-------Free Shipping

Gross Weight: 100g,Foil Bag package keep the tea fresh and easy to drink
Season: New date Quality: Class AAAAA
Sometimes known as Jasmine Dragon Pearl tea. 100% natural and hand-made.
Poetic in form and fragrance, these stunning pearls produce the most memorable jasmine tea you'll ever taste.The main materials is Tender Green Tea and Natural Jasmine Flower.
Jasmine pearl tea is hand-rolled into pearl shape, they are naturally scented with fresh jasmine flowers,hence it named as "jasmine pearl tea ". When infused, jasmine pearl tea will slowly unfurl as if the flowers open up. The strong fragrant aroma from Jasmine pearl tea is fresh and persistent. The taste is delicious and mellow.Beyond its sensual qualities, green tea is a well-known source of antioxidants.
About Jasmine Dragon Phoenix Pearl Tea
Dragon-phoenix ball or pearl tea was a general designation for Song's North Garden tribute tea, which included the Dragon ball tea and the Phoenix Cake Tea. The North Garden was located in Phoenix Mountain of Jian'ou, Fujian Province. The Dragon-phoenix ball tea was already made during Song Taiping Xingguo period (A.D. 976-983). During the Xianping period (A.D 998-1003), Ding Wei made "Big Dragon Ball" to pay tribute. During Qingli period, Cai Xiang made "small Dragon Ball" which got the better of the "Big Dragon Ball". The Dragon-phoenix ball tea was the greatest achievement of ancient Chinese cake tea production.
This lovely tea is now grown in the Fujian and Jiangxi provinces, and Guandong province. Some say Dragon Phoenix Pearl gets its name from the tea bushes "climbing the hillsides like a Dragon rising from the waters". Others suggest it refers to the way the green and white leaves of the tea twist and swirl around one another. It is grown in a mountainous, often fog-shrouded area near the border of the Fujian and Jiangxi provinces. Dragon Phoenix Pearl is one of the finest jasmines shipped from the port of Foochow.
Jasmine pearls are tightly rolled white tea leaves (in tea talk, white = buds only) that have been suffused with Jasmine essence in the drying process. Lower grade Jasmine teas are packed with the flowers included; the best jasmine teas are not, since the scenting process has completely infused a very strong flavor and essence of Jasmine over a very delicate tea. Guandong province tea is excellent and very similar to the Jasmine Pearls from Imperial Tea Court at almost half the price. The base flavor of the Imperial Tea Court Pearls is superior, but it is not an exceptional difference.
The tea is plucked in April and May and stored until August when the finest jasmine blossoms are in bloom. Night blooming white jasmine flowers are picked in the morning when the tiny petals are tightly closed and kept cool until nightfall. In the early evening the flowers begin to open with a popping sound which is the signal for the scenting to begin.
Once open, the "mating" of the jasmine and tea leaves takes place in up to seven applications, each taking up to four hours, after which the jasmine petals are removed. Once the petals are removed each leaf and bud set are skillfully hand rolled into a tiny pearl size ball. The tea is then wrapped in silk mesh and dried to set the form. The "pearls" vary somewhat in size, with the higher grades containing larger and fewer broken pearls.
When steeped, these leaves unroll and produce a tea with a pronounced floral and fresh green tea scent, a full-bodied refreshing sweet taste, and a pleasing long lasting floral aftertaste. The hue of this tea is a light peach color.
During the first infusion the boiling water causes the tiny pearls to open like flowers and then sink slowly to the bottom of the cup. Amount? It is recommended to place 12 to 20 of these tiny pearls in a clear glass mug (10-12 ounces) to watch their graceful unfurling- some Western restaurants even serve it in a wine glass. Enjoy the superb fresh bouquet, delicate flavor and unique leaf without milk or sugar. This tea is special due to the scenting process, the tea that is used as its base, and the care taken afterwards. A typical grade of jasmine tea is scented once with jasmine petals, but in Pearl Jasmine the tea leaves are scented seven times. The green tea that is used as the Pearl Jasmine's base is a very high grade of green tea grown in China.
Dragon Pearl tea leaves are customarily reinfused by adding additional hotter water to the cup for a morning of drinking. Tea connoisseurs suggest pleasant differences in the flavor can be perceived for four to seven brewings.
It is recommended that oolong and white teas be brewed at a slightly lower water temperature than black tea, as the flavors are more delicate and volatile. Remove the freshly boiled water from the heat and allow it to stand for at least one minute- temperature 170-180 degrees. For multiple infusions, increase time and water temperature with each infusion.
The water used to steep this tea should be about 160-180°F or 70-80°C. Use about 2 teaspoons (3 grams) of tea leaves for about every 5 ounces (150 milliliters) of water. A steeping time of about 3-5 minutes with more or less time is recommended depending on the desired concentration. As a rough guide, the hotter the water or the greater the amount of leaves used, the shorter the steeping time should be. The use of a covered glass or ceramic cup is recommended for steeping in order to appreciate the tea leaves.
Brewing Guide:
1. Generally use 4g green tea per 200ml (7oz) water.
2. The water temperature for brewing green tea should be around 80º C.
3. Pour the hot water over the tea leaves, and wait for about 2 minutes' infusion.
4. Then enjoy the tea. Could brew 3-4 times.
Shipping & Freight:
Freight: Free Shipping to worldwide , send by China Post Airmail.
Delivery time about 7-18 business days. Some country may delay 1-2 weeks.
We ship goods within 2 Business days after receiving cleared payment.
Following is the normal arrival time rate for your reference:
| | | | | | | | |
| --- | --- | --- | --- | --- | --- | --- | --- |
| Country | Business Days(not including holiday) | 5-9 | 10-15 | 16-20 | 21-25 | 26-35 | >35 |
| United States | Rated(time arrived) | 5.1% | 50.1% | 33.6% | 7.5% | 3.7% | Contact us |
| Europe | Rated(time arrived) | 8.6% | 61.2% | 19.1% | 7.0% | 4.1% | Contact us |
| Australia | Rated(time arrived) | 4.7% | 52.6% | 30.2% | 9.6% | 2.9% | Contact us |
| Canada | Rated(time arrived) | 6.7% | 50.6% | 30.4% | 8.5% | 3.8% | Contact us |
| Russia | Rated(time arrived) | 1.5% | 10.3% | 29.7% | 41.2% | 18.8% | Contact us |
| Asia | Rated(time arrived) | 10.5% | 30.6% | 43.8% | 12.1% | 4.0% | Contact us |
| Other Country | Rated(time arrived) | 3.5% | 25.0% | 47.9% | 17.9% | 5.7% | Contact us |
We do our best to provide quick service. However, as Severe weather, Clean Custom, Holidays etc reason, sometimes unforeseeable delays can occur. If it has been over 35 days since your payment date and it has not been received, contact us immediately, we will work quickly to locate the item and help solve it.
Attention:
If you want the goods urgently, we can send it by EMS or UPS,DHL etc. But have to plus some freight .Do contact us first if you want to change to EMS,UPS,DHL etc courier.
Return Policy:
If you are not satisfied with your purchase, for any reason, let us know. We will promptly replace the item or give you a refund. It's that simple!
Shipping and handling charges are not refundable.
The freight for send back and re-send should be paid by buyer.
For your protection, please insured your package.
If you products have any defect or delay, please do not open case or not leave Negative & Natural feedback, it can not solve any problems .But just tell us, we will do our best to solve it.
If you are satisfied with your purchase, we sincerely hope you can leave us a positive Feedback and four 5-star Detailed Seller Ratings (DSR), which are of vital importance to the growth of our small business.
Besides, PLEASE DO NOT leaves us 1, 2, 3 or 4-star Detailed Seller Ratings because they are equal to negative feedback. Only 5-Detailed Seller Ratings are welcome.
About US:
Tea Discount Store is a professional tea factory located in GuangDong Province, China. Main produce Blooming flowering tea; Lapsang Souchong black tea; Wu-yi Oolong, White Tea etc. Strictly comply with HACCP to control quality. Our products can meet FDA, Eu standard, Japanese standard, QS standard etc. Welcome to be our Distributor.